Our shelf next to our electronics corner, aptly named TESLA, is getting a bit crowded. Luckily we have our own lasercutter. Why not make drawers? After today's lasercutter workshop, nothing would be more obvious. So I made the beginning and created the first. The basic idea now is:
If everybody who doesn't know where to put stuff any more, makes just one drawer, we will end up with a cool and individualized shelf.
Everybody is invited to use the drawers in this github repository to get started quickly and add their own designs.
---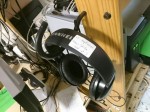 In other News: H sponsored earphones, so people watching videos on Würfel, our pc directly connected to the room's stereo, no longer need to play to an audience.